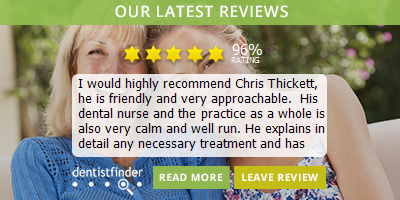 Dentistry@68 is a private dental practice based near the centre of Poole and serving the surrounding areas including Broadstone, Blandford and Wimborne.
The Poole dentists in Dentistry@68 offer comprehensive family dental care with dental plans covered by Denplan and DPAS. Routine dental treatments are supported by a full dental hygienist service. Cosmetic dentistry is provided including smile design / smile makeovers, gum reshaping, dental implant treatments, veneers, crowns and bridgework. Teeth whitening systems including Zoom Advanced Power and Enlighten Smiles and innovative treatments such as Inman Aligners to straighten smiles are available.
Our Poole dental practice has training and lecture facilities and regularly hosts occlusal (bite) related restorative training seminars for dentists from around the United Kingdom. Graham and Richie help organise, host and teach these dental seminars as part of the Stockport Dental Seminar organisation.
Dentisty@68 have more than 150 reviews from dental patients on Dentist Finder .net, visit to read them >>
Dentistry@68 incorporates Dentistry@68 Limited. The registered office being at Manor House, 1 Macaulay Road, Broadstone, Dorset BH18 8AS. The company is regulated by the General Dental Council and is registered in England and Wales no. 07864764.